What does modern Re – Modeling mean ?
by ; Dave Mason
What is Modern Re-Modeling ? How do I accomplish my home improvement and where do I start ? How will searching the internet make any project go smoothly and reduce stress ?
Why is Google search so important to the home owner and professional ?
Re-Modeling is an extreme Art form of construction that occurs inside and outside the home. An existing structure is redesigned and physically changed in FORM and FUNCTION. Improvements can occur on any of the property structures or on the raw property itself.
There are of coarse many Contractors and professionals to choose from. There are only a few that have the vision and skill to provide smooth execution and a top quality finished project. [and fewer still that know the power of today's modern search options ]
Types of remodels and construction ;
Whole house
Kitchen and Bath
Living areas
Bedroom
Additions [ bedroom, bath, kitchen, living areas, wine cellars ]
Basement conversions
Out buildings
Arbors and Trellises
Decks
Spas
Yard spaces
Patios [ wood, stone or gravel ]
Outline of project steps ;
The need
Looking at similar projects on – line
The basic plan, idea
Finding a professional [s]
Basic Design
Finish Design and plan
Project Estimate and Contract costs
Searching on – line for fixtures and components
Order materials and fixtures
Permit Process or sometimes not [ not all projects need a plan or permit ]
Demolition and first clean up
Debris removed from site
Construction
Daily clean up
Changes and change orders [ In the course of construction optimum design and function will show itself to the vigilant homeowner and experienced professional, changes are expected ]
Order any new fixtures thru Google Search
Space saving and utility [ adding quality function and storage is always a plus to any remodel ]
Rough in final design
Refine final design
Install all rough electric and plumbing
Test all rough in electric and plumbing
Inclose rough in project
Install Dry Wall
Install cabinets
Paint first primer coats
Finish and trim
Install finish electric and plumbing
Install flooring
Finish Paint
Clean up work sites and clear out all tools and debris
The internet and your computer ;
There are thousands of choices for fixtures, cabinets, doors, hardware, lights, woods, paints etc. Lucky for us today there is Google and the internet to simplify finding what is needed and available. I recommend that my clients find what they need thru Google Searches as this saves time and money. All materials and fixtures for construction that are made anywhere in the world can be easily located on – line and then ordered simply [ by either party ] with a credit card. Delivery takes a few days.
Just go to Google search type in what you need for your project and voila many choices will appear like magic. If what you are locking for is not on – line it probably does not exist.
Architect vs Builder and Home owner ;
Hiring an architect makes home improvement design and the process of choosing fixtures and materials easy as he or she does this work for you. But in the process this professional will ask you many questions over a long period of time. This process is quite expensive and often tedious. The other option is to be your own designer and work with the designer builder professional.
On most of my projects I am the designer in partnership with the owner. A basic plan or idea is put forth with design options considered. The internet is then used to plug in various materials and fixtures until a working plan evolves organically. This will save time and money and allow for the owner to see first hand materials and fixtures options that will beautify the home improvement project.
Often it is important to be fluid in remodel construction as changes due occur as the project develops. Being your own designer with the contractor allows for flexibility when changes come up. [ and they do ]
Permit vs Non Permit ;
When is a permit necessary and what will it cost ? Not all remodeling and construction requires a formal plan and permit. Many remodels are cosmetic and a formal plan is not necessary. I advise my clients to check with their contractor – designer to see if a permit is necessary for the project they have in mind. Why spend money and time when it may not be necessary.
For example ; In many cities a retaining wall of 4 foot or less does not need engineering or a permit. Thus procuring a permit would be wasting money that otherwise could be used to pay for the project. Adding an arbor or trellis to the yard may not need a permit.
Changing interior trim or cabinetry and painting often does not need a permit. So why spend the money ?
What does need a permit ?
This may vary city to city but generally speaking –
Changing electrical systems –
Adding circuits –
Modifying plumbing and fixtures –
Adding a new bathroom –
Adding a new bedroom –
Additions –
Foundations –
Roofs –
What kind of plans do I need to secure a permit ?
Many cities do not require complex plans for smaller projects. It depends on how extensive the remodel will be. I have drawn plans in a day that sufficed for permit acquisition. When and if the work is extensive an architect or designer may be helpful. Often less is more as money saved on planing and architectural fees can be put towards the construction itself.
Costs ;
Remodeling and Construction can stretch any budget. One of the best ways to keep costs down is shop on-line as much as possible and let Google find the very best deals for your Home Improvement. On-line shopping for fixtures is less expensive than shopping brick and mortar and as an added bonus Fed X will deliver to your front door. If you the home owner is going to shop for the components then this time savings will be reflected in a smaller cost of Construction. Work out the details of shopping and various responsibilities with your contractor before the final estimate of cost.
In my contracts I ask for equal weekly payments on all estimates. If I estimate for 20 days labor with overhead I divide 20 days by 5 = 5 equal payments. One payment to start then 4 payments thru finish.
All remodels have change orders as designs change in process and there is discovery. Change orders are billed separately and must be agreed by both parties before inclusion.
In closing ;
There are qualified Home Improvement Professionals out there to hire at a reasonable cost. In order to find a good company to remodel your home it is important to perform due diligence and ask questions. Marin Home Restoration is the company I recommend if you personally find value in the way I approach construction and remodeling.
Whoever you choose make sure they are flexible and use internet searches to design, find products, services and ideas as this saves time and money.
Keep communication open with your professional during your Home Improvement using E mail, texting and phone as the final say in design and function is always yours
Happy Remodeling – Dave Mason 05/16/2016
Bathroom Remodeling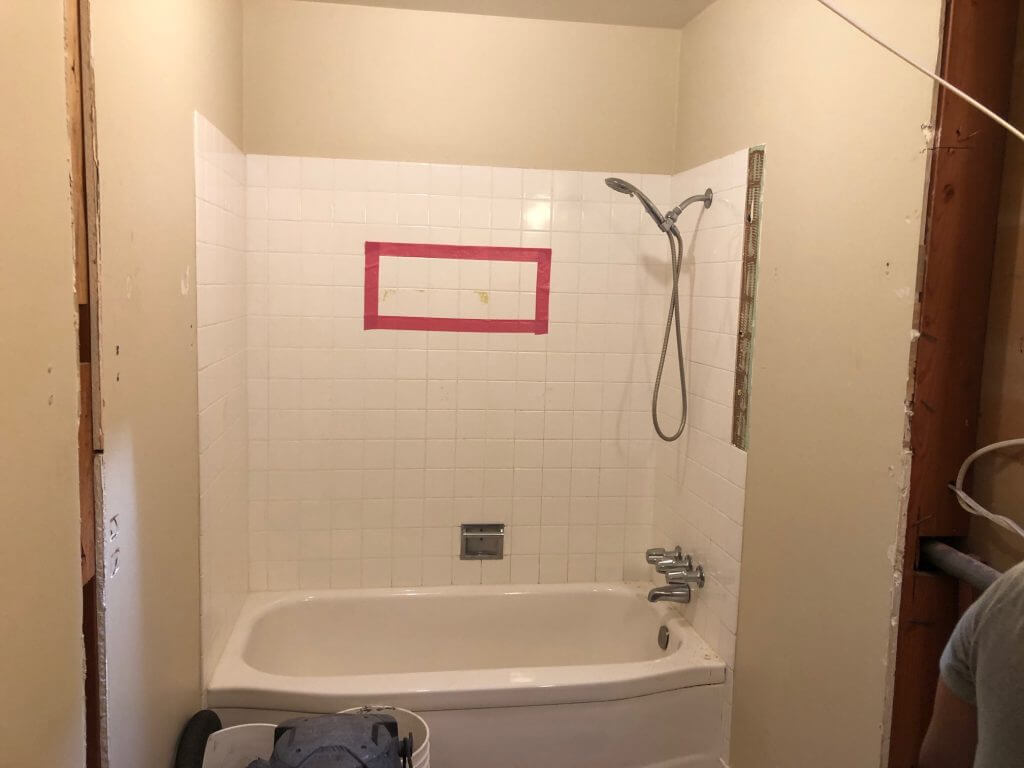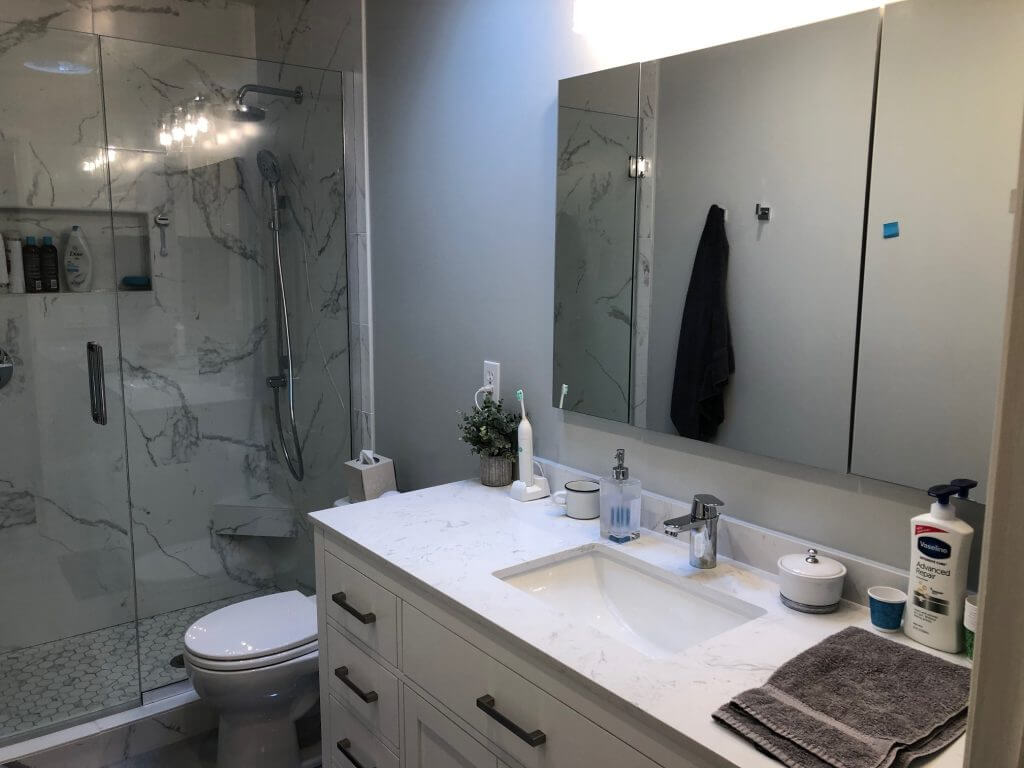 Basement transformation to extra living space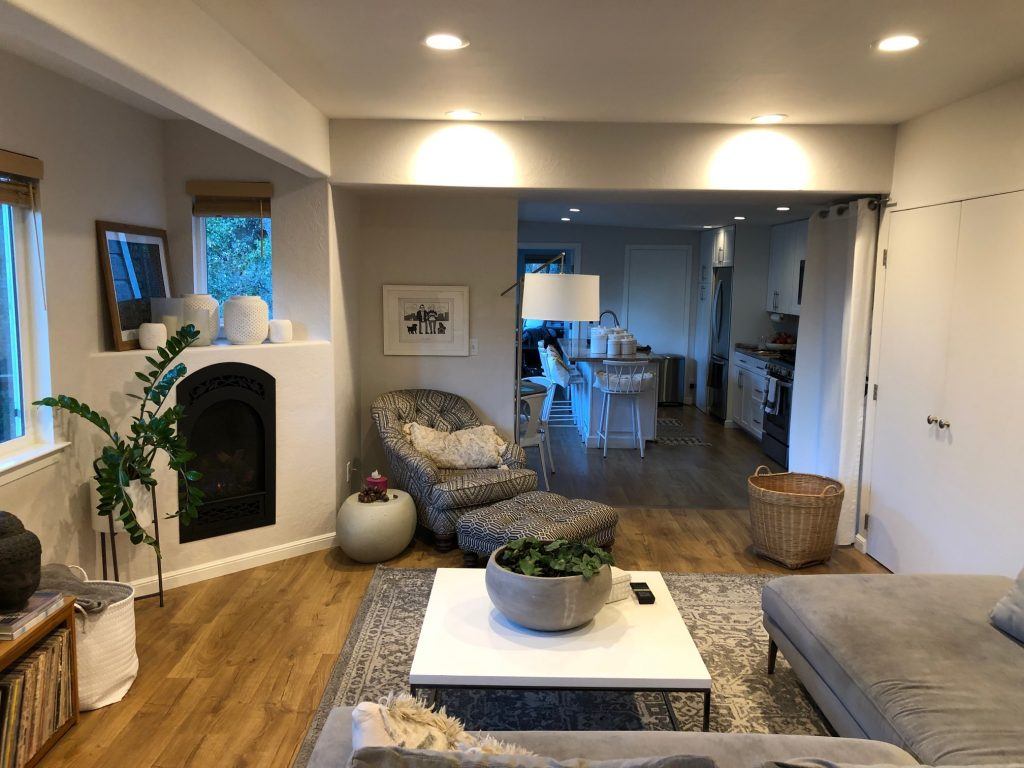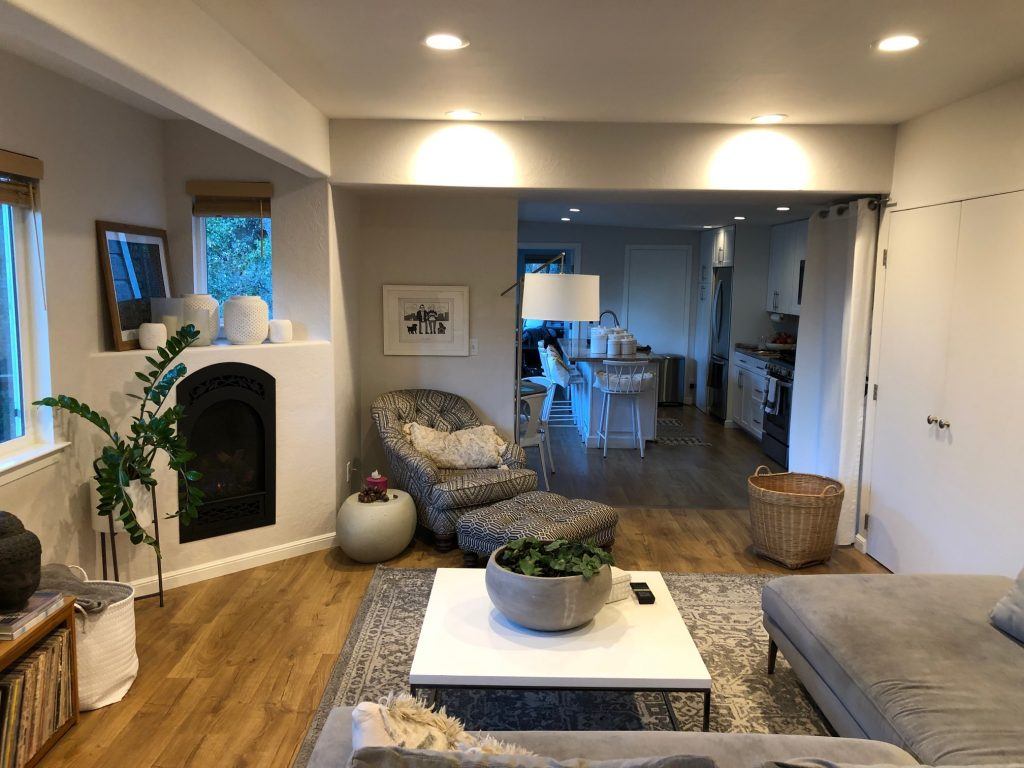 Basement Bathroom